Foliage Garden
The Foliage Garden will be a new and unique themed attraction at the Singapore Botanic Gardens. Conveniently located next to the car park at Cluny Park Gate and opposite The Garage building, the Foliage Garden extends a warm welcome to visitors with an extensive collection of terrestrial and aquatic foliage. It showcases a wide array of ornamental plants with colourful foliage of varying shapes and textures and demonstrates that the beauty and diversity of plants does not lie in their flowers alone.
Visitors can expect to spot interesting carnivorous plants such as Nepenthes or pitcher plants. These plants have evolved to adapt to nutrient-poor environments where most obtain their nutrients from trapping and digesting insects. One of the most notable specimens on display, the 'giant' form of Raffles' Pitcher Plant, Nepenthes rafflesiana, can be easily spotted by its distinct red cups and large funnel shaped upper pitches.
Leaf variegation
The varying colours of the leaves in the foliage garden is one thing that will be hard to miss. This is known as variegation and it is attributed to many factors such as genetics or pigmentation. For instance, plants bearing genetic leaf variegation, chimeras, lack chlorophyll in some tissues, causing their leaves to appear yellow or white in some areas. Pigmentation can also be a cause for variegation where other pigments present mask the green pigment of chlorophyll. This is the case with some Begonia species, where the presence of pigmented hairs cause the green leaves to appear red. Variegated leaves are widely used to brighten up gardens and add dimension and structure.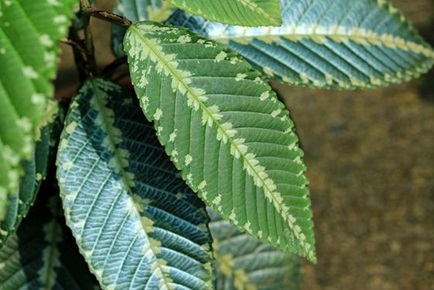 Leea zippeliana from New Guinea, in the grape family Vitaceae
Shapes and textures of leaves
The foliage garden also presents an eye-opening range of various leaf shapes and textures. Different plants adapt differently to the habitats that they grow in. Leaves come in many forms such as heart (cordate) or palm (palmate) shaped. Leathery or thin leaves are adaptive modifications to hot and humid tropical weather. Hairy leaves, whilst often pleasant to the touch, act as a form of self defence mechanism to deter herbivores.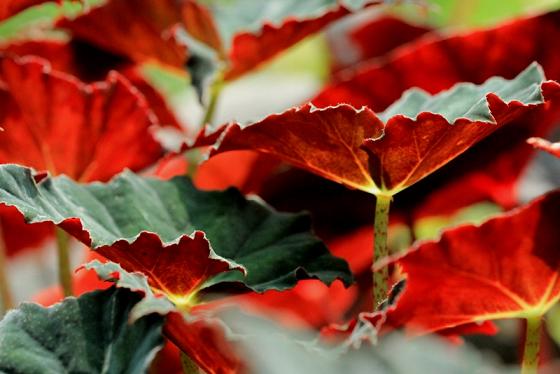 Begonia Kimbrook
Opening Hours
7am to 7pm Daily