1888: Ridley and the Malayan Rubber Industry (from 1896)
The Gardens' first Director, Henry Nicholas Ridley, subsequently came to the Gardens in 1888 and worked tirelessly for the next 23 years to usher the Gardens into the twentieth century and its most productive period historically. His directorship was marked by a greater expansion of the Gardens' roles and participation in botany, agriculture and forestry. In particular, he was responsible for publishing the definitive Flora of the Malay Peninsula, the establishment of the economic garden as the premier experimental ground for tropical economic crops and placing the Singapore Botanic Gardens as a credible botanical authority through its scientific publications. Ridley continued his prodigious botanical work until beyond retirement, and published over 500 books and scientific papers covering some 10,000 printed pages. He is reckoned to have described 4,000 plant species new to science.
One of Ridley's most significant contributions while at the Singapore Botanic Gardens was pioneering Malaya's rubber industry. Ridley zealously researched the commercial possibilities, including the various methods to tap the tree's latex without causing permanent harm to the tree and preparing the latex for sale. While his persistence in persuading Malaya's planters to grow rubber trees (Hevea brasiliensis) may have earned him less than flattering nicknames such as 'Mad Ridley' and 'Rubber Ridley', Ridley's efforts saw rubber become the major cash crop of the region when the existing coffee plantations were devastated by disease. The Gardens' revenue multiplied greatly as the region became a major market for the rubber trade and the Gardens, the principal source of seed for establishing new plantations. By 1920, Malaya was producing over half the world's rubber, and rubber is still an important crop for the region until today.
Vanda Miss Joaquim originated from the garden of Agnes Joaquim, an Armenian lady residing in Singapore. In 1893, the first scientific director of the Singapore Botanic Gardens H. N. Ridley recorded the following in the Gardeners' Chronicle: "A few years ago Miss [Agnes] Joaquim, a lady residing in Singapore, well-known for her success as a horticulturist, succeeded in crossing Vanda Hookeriana and V. teres, two plants cultivated in almost every garden in Singapore."
Read his account of Vanda Miss Joaquim in the Gardeners' Chronicle on 24 June 1893 here.
He was called 'Mad Ridley' because of his persistence in persuading planters to plant rubber trees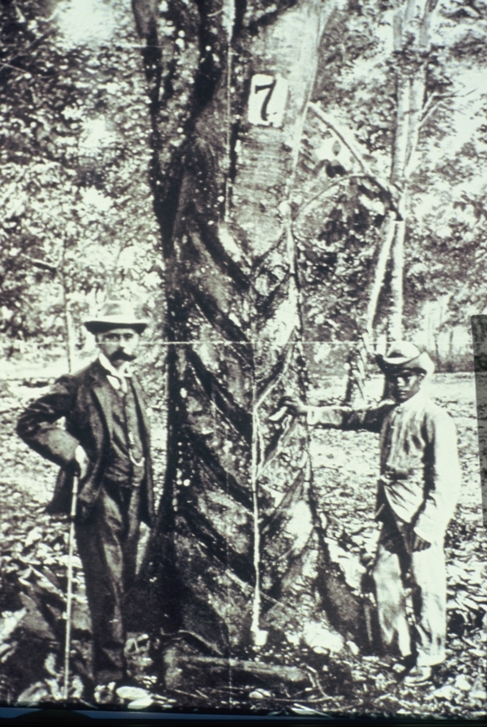 Ridley with an original Para Rubber tree in the Economic Garden