1963: The Greening of Singapore
1963: The Greening of Singapore
By the mid 1960s, the Gardens had taken a leading role in the greening of Singapore. In 1963, then Prime Minister Lee Kuan Yew launched the first Tree Planting campaign with an emphasis on providing shade and greenery. This was followed in 1967 by the "Garden City" campaign, and in November 1971, these efforts to beautify Singapore culminated in the first "Tree Planting Day," now an established tradition celebrated annually in Singapore. To meet the need for urban landscapes and recreational areas, the Gardens' staff became involved in supplying planting material and in plant introduction to increase the variety and colour in roadside and park plantings.
The early 1970s also saw the establishment of a new Tissue Culture Laboratory to assist local orchid growers and breeders and help cultivate Singapore's increasing enthusiasm for orchid hybrids. The School of Ornamental Horticulture was also opened in 1972 at Burkill Hall to meet the growing demand for technical expertise in horticulture. In 1976, the Gardens merged with the Parks and Trees Branch of the Public Works Department to form the Parks and Recreation Division under the Ministry of National Development.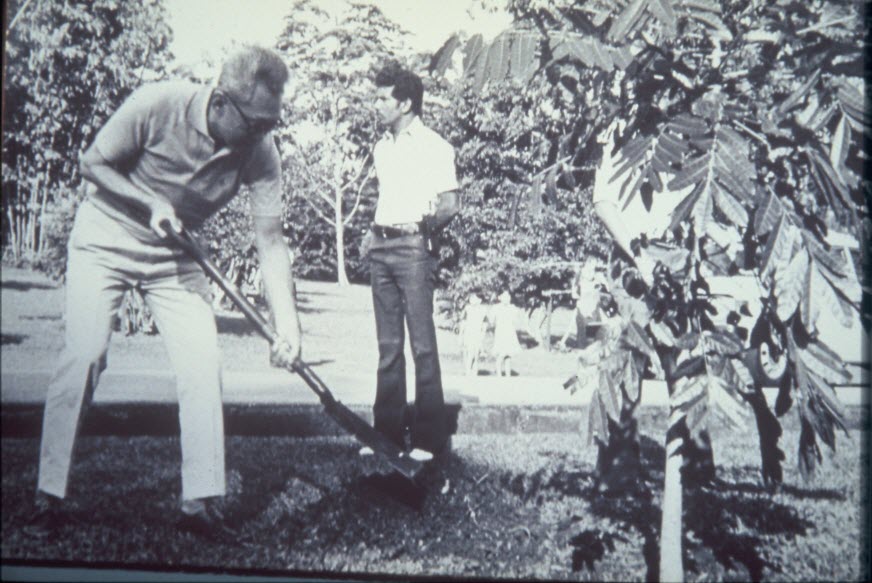 Mr Lee Kuan Yew, then Prime Minister, at Tree Planting Day in 1980 planting an African Mahogany. The tree can still be found along the Gardens' Main Gate Road.