Dr Daniel C. THOMAS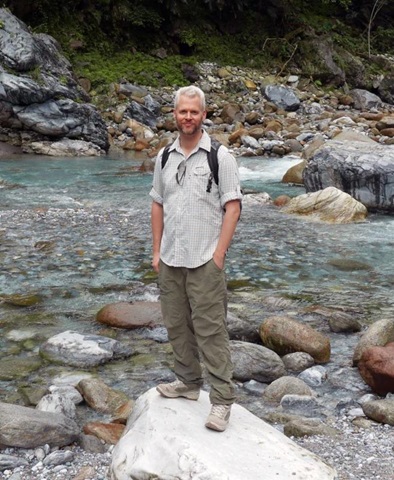 Email Address: DANIEL_THOMAS@NPARKS.GOV.SG
Research Interests
I work on the systematics, evolution and historical biogeography of tropical flowering plants with a current taxonomic focus on Annonaceae, Begoniaceae, and Lauraceae. I am interested in the use of dated phylogenies, fossils, palaeogeographic reconstructions and various other disparate data sources to investigate the historical assembly of tropical floras, and the impact of historical processes on current patterns of species distributions and diversity in the Southeast Asian tropics. I dedicate substantial time to field and taxonomic work underpinning this research, including for the Flora of Singapore and Flora Malesiana.
Current Research

1) Phylogenomics of Annonaceae: drivers of tropical rain forest diversity and the impact of future climate change on the tropical rain forest biome.
2) Revisionary work on Goniothalamus and Uvaria (Annonaceae) for the Flora of Singapore.
3) Plastome phylogenetics and historical biogeography of Asian Lauraceae.
4) Revisionary work on Alseodaphne, Dehaasia and Nothaphoebe (Lauraceae) for the Flora of Peninsular Malaysia and Flora of Singapore.
5) A revision of Begonia (Begoniaceae) from Sulawesi, Indonesia.

Selected Publications [View full list]
Thomas, D.C. & Ardi, W.H. (2020). Synopsis of Begonia (Begoniaceae) of southwest Sulawesi and the Selayar Islands, Indonesia, including one new species. Phytotaxa 437(2): 73–96.
Chen, J., Thomas, D.C., & Saunders, R.M. (2019). Geographic range and habitat reconstructions shed light on palaeotropical intercontinental disjunction and regional diversification patterns in Artabotrys (Annonaceae). Journal of Biogeography 46(12): 2690–2705.
Strijk, J. S. et al. (2019). The soursop genome and comparative genomics of basal angiosperms provide new insights on evolutionary incongruence. bioRxiv 639153.
Moonlight, P.W. et al. (2018). Dividing and conquering the fastest–growing genus: Towards a natural sectional classification of the mega–diverse genus Begonia (Begoniaceae). Taxon 67(2): 267–323.
Thomas, D.C.
, Bour, A., & Ardi, W.H. (2018). Begonia of the Matarombeo karst, Southeast Sulawesi, Indonesia, including two new species. Gardens' Bulletin Singapore 70(1): 161–174.
Thomson, S.A. et al. (2018). Taxonomy based on science is necessary for global conservation. PLoS Biology 16(3): e2005075.
Thomas, D.C.
, Tang, C.C. & Saunders, R.M. (2017). Historical biogeography of Goniothalamus and Annonaceae tribe Annoneae: dispersal–vicariance patterns in tropical Asia and intercontinental tropical disjunctions revisited. Journal of Biogeography 44(12): 2862–2876.
Kidner, C., Groover, A., Thomas, D.C., Emelianova, K., Soliz-Gamboa, C. & Lens, F. (2016). First steps in studying the origins of secondary woodiness in Begonia (Begoniaceae): combining anatomy, phylogeny, and stem transcriptomics. Biological Journal of the Linnean Society 117(1): 121–138.

Thomas, D.C.
, Chatrou, L.W., Stull, G.W., Johnson, D.M., Harris, D.J., Thongpairoj, U. & Saunders, R.M.K. (2015). The historical origins of palaeotropical intercontinental disjunctions in the pantropical flowering plant family Annonaceae. Perspectives in Plant Ecology, Evolution and Systematics 17(1): 1–16.
Merckx, V.S.F.T. et al. (2015). Evolution of endemism on a young tropical mountain. Nature 524: 347–350.