Dr Gillian KHEW Su-Wen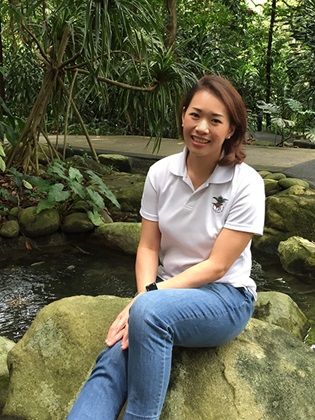 Email Address: GILLIAN_KHEW@NPARKS.GOV.SG
Research Interests
My research interests encompass the application of molecular biology to species identification, understanding evolutionary relationships and conservation. My work spans numerous plant families, extending into the fungal kingdom.
Current Research
Molecular phylogenetics of Gesneriaceae, Dipterocarpaceae, Urticaceae, Cactaceae, Zingiberales, etc.
Conservations genetics of Zingiberales and Hanguanaceae.
Population genetics of Orchidaceae and Gesneriaceae.
Phylogenomics of the Flora of Singapore.
Selected Publications
Niissalo, M.A., Leong-Škorničková, J., Khew, G.S. and Webb, E.L. (2017). Very small relict populations suggest high extinction debt of gingers in primary forest fragments of a tropical city. American Journal of Botany 104 (1): 182 – 189.
Niissalo, M.A., Khew, G.S., Webb, E.L., and Leong-Škorničková, J. (2016). Notes on Singaporean native Zingiberales II: revision of Marantaceae, with a new generic record and notes on naturalised and commonly cultivated exotic species. Phytotaxa 289 (3): 201–224.
Taylor, N.P., Olsthoorn, G., Zappi, D., Khew, G.S. and Quandt, D. (2014). A remarkable new Rhipsalis (Cactaceae) from eastern Brazil. Bradleya 32: 2 – 12.
Khew, G.S. and Chia, T.F. (2011). Parentage determination of Vanda Miss Joaquim (Orchidaceae) through two chloroplast genes, rbcL and matK. AoB PLANTS 2011: plr018. doi:10.1093/aobpla/plr018.