Dr Matti A. NIISSALO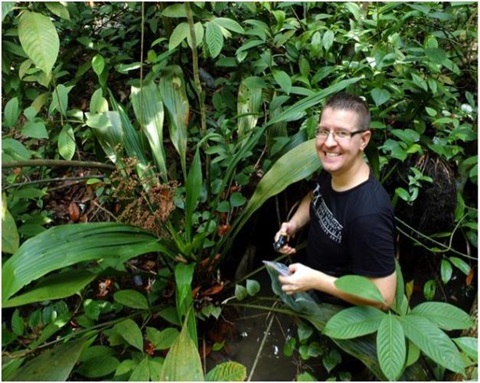 Email Address: MATTI_ASSER_NISSALO@NPARKS.GOV.SG
Research Interests
My recent research has focused on species delimitation, identification and conservation genomics of South-East Asian plants. I have a particular interest in understanding plant species at population level in order to assess their conservation needs and to better understand species concepts in tropical landscapes. I am currently collecting material towards the genetic barcoding of a wide variety of plants, and I am working on genomic tools that will allow reliable species identification of any plant species from DNA in Singapore in the future.
Current Research
DNA barcoding for the Flora of Singapore.
Species delimitation and reproductive biology of Hanguana.
Conservation genomics of Singapore Zingiberales.
Selected Publications
Leong-Škorničková, J. & Niissalo, M.A. (2017). Identity and typification of Hanguana malayana and H. anthelminthica, and notes on other early names in Hanguanaceae. Plant Systematics and Evolution. DOI:10.1007/s00606-017-1432-9
Niissalo, M.A., Leong-Škorničková, J., Khew, G.S. & Webb, E.L. (2017). Very small relict populations suggest high extinction debt of gingers in primary forest fragments of a tropical city. American Journal of Botany 104: 182–189.
Niissalo, M.A., Khew, G.S., Webb, E.L. & Leong-Škorničková, J. (2016). Notes on Singaporean native Zingiberales II: Revision of Marantaceae, with a new generic record, and notes on naturalised and commonly cultivated exotic species. Phytotaxa 289: 201-224.
Noreen, A.M.E., Niissalo, M.A., Lum, S.K.Y. & Webb, E.L. (2016). Persistence of long-distance, insect-mediated pollen movement for a tropical canopy tree species in remnant forest patches in an urban landscape. Heredity 117: 472–480.
Niissalo, M.A., Wijedasa, L.S., Boyce, P.C., Leong-Škorničková, J. (2014). Hanguana neglecta (Hanguanaceae): a new plant species from a heavily collected and visited reserve in Singapore. Phytotaxa 188: 14–20.