Halia Restaurant and The Villa

The Halia Restaurant
Tucked within the lush foliage of the Ginger Garden at the Singapore Botanic Gardens, The Halia was established in 2001 and has been renowned for its European cuisine fused with Asian inspirations. Named after 'halia' – the Malay word for ginger, it flies the Singapore flag high and is a popular destination for tourists as well, with specialties including Halia's Singapore Chilli Crab Spaghettini.
The concept of The Halia is to be "a restaurant in a garden and a garden in a restaurant". The main dining hall called the "Dining Room", with its warm earthy interiors, high ceiling and full glass walls offering unobstructed views of the Ginger Garden, brings nature into the restaurant; while the al fresco dining area, called the "Viewing Deck", brings diners closer to nature as well, as it sits surrounded by greenery.
Just minutes away from downtown Singapore, the restaurant has been a popular choice for romantic dinners and get-togethers with friends and families. Hence, even after over a decade in operation, The Halia continues to win awards and accolades for its excellence in food, service and unique dining ambience.
Menu
Fusion Cuisine (European-Asian)
*Halal Certified
Location
Ginger Garden
Opening Hours
Daily 12pm - 3pm & 5pm - 8.30pm
Contact
(65) 8444 1148
The Villa
The Villa is an events venue and has played host to product launches, board meetings, business dining, annual dinner & dance parties, seminars and many more.The venue offers great flexibility in big party planning, with the option of intimacy and exclusivity for small get-togethers all within our unique garden venue for an event guaranteed to be special and memorable. The Villa has three distinct areas – Batik Room, Drawing Room and Courtyard. Each can be booked individually or in various combinations for customised needs.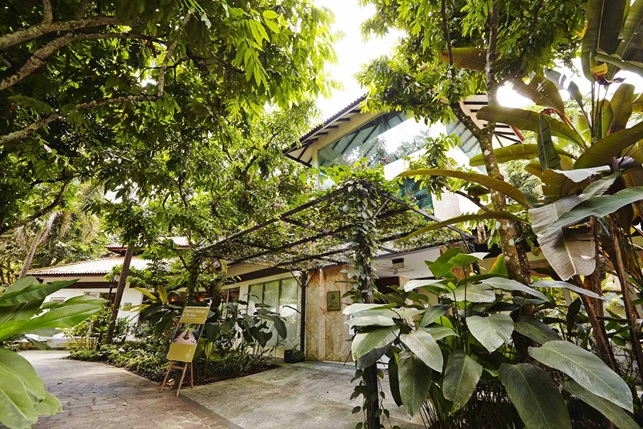 Location
Ginger Garden
Contact
Contact our events partner for enquiries or viewing at (65) 6287 0711