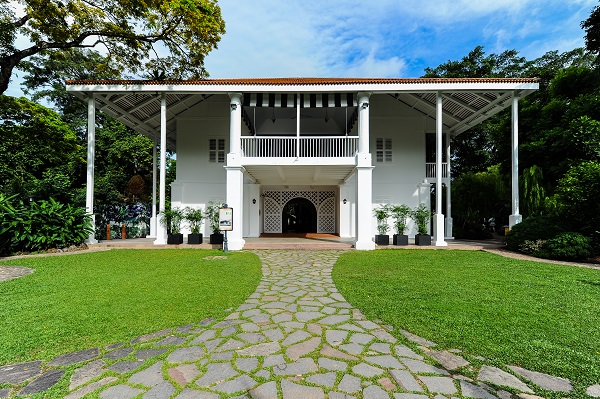 Overlooking the National Orchid Garden, this restored Anglo Malayan plantation house provides the perfect setting for weddings and special occasions.
Available Hours for Booking:
8am to 10pm daily (inclusive of setup and tear down)
Each booking must be made for a minimum of 4 hours (including event catering/logistics setup and tear down) in accordance with the following time-blocks:
8am - 12noon (4 hours)
1pm - 5pm (4 hours)
6pm - 10pm (4 hours)
Type of Event
Solemnisation Ceremonies
Wedding Receptions
Corporate Functions
Capacity
Level 1 - 80pax
Level 2 - 100pax
Rental Rates (inclusive of 8% GST)
| | |
| --- | --- |
| Per Hour (minimum of 4h booking) | $567.00 |
| Full Day (8am to 10pm) | $6350.40 |
Points to Note
Full payment of usage fee together with application form must be submitted 12 weeks before the event day.
Additional usage fee will be imposed for use of the venue (including clearing up/tear down) beyond booking time.
An admin fee (20% of the usage fee) will be charged for bookings cancelled more than 30 days before actual event date.
An admin fee (100% of usage fee) will be charged for bookings cancelled less than 30 days before actual event date.
Food & Drinks are allowed inside Burkill Hall.
Open fire (for any purposes) are not allowed (eg. torches, gasoline, etc.)
Decorations can be put up via methods that cause no physical defacement or damages to the venues (no drilling, hammering, sticking tapes, etc), and that they can be removed cleanly.
No distribution of brochures/flyers or display of banners
No animals are allowed in the premises.
No releasing of animals or items (e.g. balloons, confetti) into the general environment.
Only classical or light music is allowed. Dancing is discouraged in all venues.
The above pointers are not exhaustive. Kindly refer to the Venue Rental Rate and Terms & Conditions for more details.
Downloads
Contact Us
Event Butler has been appointed by the National Parks Board to manage venue bookings at Fort Canning Park, HortPark and the Singapore Botanic Gardens.
For venue booking enquiries, please submit the online form with your preferred venue. For further enquiries, please contact Event Butler at 6471 0318 or nparks_sbg@eventbutler.sg
Alternatively, you may call the NParks Helpline at 1800-471-7300 or email NParks_SBG_Venues@nparks.gov.sg.
For use of the Gardens' outdoor spaces for organised/group activities, please click here.